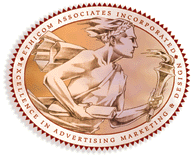 Thank you for visiting our portfolio pages.

The following pages represent some of the work our team has produced over the past few years. Peruse at your leisure, and then give us a call. We would be glad to share some of our stories and to discuss how we might be able to serve you and your marketing needs.

We also welcome your comments and suggestions. As with most web sites, ours is a work in progress, a living document and always changing. So please visit us often.